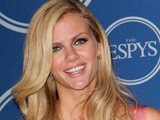 Brooklyn Decker has revealed that she once told a teacher to "suck it" in high school.
Appearing on MTV's
When I Was 17
, the
Just Go With It
actress recalled fighting with the staff member over the layout of the school's yearbook during her senior year.
"My friend Ashley and I were in this class. I was the senior class president and Ashley was student body president, and the yearbook teacher did not want to give student council a page in the yearbook," she explained.
"We funded all these clubs and we support all these clubs through spirit week and so we thought we deserve a page in the yearbook."
She went on to say that the teacher felt that since there was only room for one more group in the book, it should go to one with members who were not already in several other photographs, leaving the student council out of it.
"We started yelling things at one another and by the end of the class Ashley took a trash can and just chucked it at a wall," she remembered.
"And I walked out of the class... and I yelled, 'Suck it!' to my teacher."
Decker insisted that the behaviour was not uncharacteristic at the time, adding: "I don't know what came over me, I was crazy in high school. I was like, all hopped up on Red Bull or something, I don't know."